Deciphering the Knicks Organizational Dysfunction
The NBA season is a marathon – there is truly no quick sprint to the playoffs for any team.
It is a battle of attrition, even for the more elite teams in the NBA. For teams like the San Antonio Spurs, they get it. It's a long marathon, so you run at a brisk jogging pace. Maintain health, do not overtask yourself for the final relay – the playoffs – just get from point A to point B. For other teams such as the Indiana Pacers, there are a few curved edges in the road that the Pacers and other teams vying for a playoff spot must overcome.
Then there are the Knicks who are essentially this particular runner: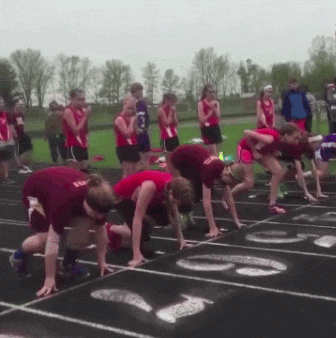 Whatever can go wrong over the span of an 82-game regular season will go wrong for the New York Knicks.
After a rather surprising 16-14 start for the, as Derrick Rose called it, "super team", the Knickerbockers have fallen from grace to a 23-32 record, good enough for 12th in the Eastern Conference. But the constant losing is not even the greatest issue that the organization and its suffering fanbase is in the midst of dealing with.
No, no, no! Everything humanly possible is going wrong!
Jeff Hornacek has completely lost control and the respect of his team. Derrick Rose takes unannounced trips to Chicago whenever he pleases, the Carmelo Anthony-Phil Jackson drama is spilling out of control and to cap it off 53-year old Charles Oakley is reliving his playing days, showing more fight than an entire Knicks roster.
Now the NBA can just simply 'ctrl-alt-del' this franchise and save us all, or we can somehow try to fix this mess, if for anyone, let's do it for Charles Oakley.
Let's start from the beginning.
I'd be lying if I said that bringing in Phil Jackson was a stupid idea from the very beginning. It was a bold move, with the potential to be tactically brilliant. An NBA coaching legend with championship pedigree unlike ever seen in professional sports.
Now the world is his oyster, although a crummy world, A.K.A. the Knicks.
Who would not want to come play for the 'Zen Master'? Dude's a legend. Hell, back in March 2014, I was considering dropping out of university and starting my basketball career with the Knicks. Judging by the Sasha Vujacices and the Maurice Ndours that the Knicks' bench is abundant of, I would fit right in.
What originally seemed as a great idea, turned out as 'Knickish' as possible. While the past few seasons in Knicks history have been rough, the 2016/17 campaign has been embarrassing and it has everything to do with Mr. Jackson. For weeks now, Jackson has been publicly shaming Anthony, trying to force the superstar score to waive his no-trade clause and essentially leave the team.
So far, every attempt has backfired. Anthony is still hanging around in a white, orange, and blue jersey under the Madison Square Garden spotlight. Now, I may not have much practice in terms of the whole general managing thing, but here's the thing – the NBA is a brotherhood.
Everyone knows what is happening in New York. It is one thing to trade a star player off your team, it is another thing to try to kick him out and slam the door right behind him. Phil Jackson is attempting to do the latter and the Knicks franchise will be forced to face the consequences.
Who would want to come play with the Knicks seeing how a nine-time All-Star is treated there? Remember when I said the 2014 me would have loved to come play with the Knicks? Yeah, the 2017 me would much rather stick to university and stay as far from the Knicks organization as possible.
So how can this mess be cleaned up?
The ball is in owner James Dolan's court. Notoriously known as a business man who has continually scarred the Knicks hopefuls, this is where Dolan can start making his amends. Carmelo Anthony may very well not be the answer for this team, but neither is Phil Jackson, and if this team wants to succeed in the future, it is time to pull the plug on both experiments.
Let's rewind back to the 2003 NBA Draft. LeBron James was the 'Chosen One', but many believed a certain Syracuse product was the real gem in the draft. Melo's elite offensive game was the talk of the draft. Fast forward to today, Melo and LeBron are exactly what everyone thought they would be.
James is the 'Chosen One'. Carmelo Anthony is a prolific scorer and it stops there.
Melo just surpassed Sir Charles Barkley on the all-time NBA scoring list and currently sits alone in 25th place, but for as great of a player as Anthony is, he has been continuously overrated his entire career.
Melo is the number one guy on the Knicks. Let's be clear, no team in the NBA today will ever win a championship or will even compete for a championship with an aging volume shooter as its number one option. That is a reality. Melo wants to be a number one option, but until he realizes that he will have to settle for a second fiddle role, he will never win in this league.
Dwyane Wade took the back seat to LeBron in Miami. Kyrie Irving rode shotgun with James in Cleveland. Brian Scalabrine accepted being the Robin to Paul Pierce's Batman in Boston.
The Knicks while on paper still Melo's team, in reality, the team's future success ties into how Kristaps Porzingis develops. There is value attached to Carmelo Anthony. If the Clippers want him, take as many draft picks as you can and run, if the Cleveland Cavaliers are willing to talk, by all means engage and grab as many building blocks as you can.
Assuming Melo wants to win before all is set and done, in the offseason, this will be a discussion that must take place. Porzingis is the guy in the future, Derrick Rose is a free agent and not worth the extension, Joakim Noah is a broken down back-up big man, and the line pretty much ends there. If Melo wants to win, it will not be in New York.
Sending him packing, in a respectful manner, will be the first step. The next will be sending out Phil Jackson.
Questions for you fellow reader. Do you guys know who R.C. Buford is? Do you fine basketball aficionado know what Sam Presti looks like? The general mangers of the San Antonio Spurs and Oklahoma City Thunder are where they belong. Behind the scenes, making good team moves and letting the players play.
In New York, you have Phil Jackson trolling his own superstar on his personal Twitter account.
Sports is a business and to have a successful business, everything starts from the top. You need a vision and a set of values.
The Knicks have neither.
It's time to hit reset in Knicks land. If the Knicks really want to find success again as a basketball franchise, Melo has to go and so does Jackson.
Now watch the Knicks continue doing everything wrong.